Trees are the focal point of your outdoors and if they are enlightened properly, they will welcome your guests with their magical glow. If you are confused about how to decorate outdoor trees with lights, this article is for you.
There are many types but you need to know which are suitable for the tree according to the shape and branches of the tree.
Some trees are full of leaves while some trees are found without any leaves in their branches in winter. The bare branches give you an opportunity to highlight and create a gorgeous dreamy outlook.
Lighting the outdoor trees can be an issue if you do not know how to decorate outdoor trees with lights and you have no idea about the procedures. So, The color selection of the lights can vary depending on the season.
You can use battery-powered too. It comes in different shapes and designs. There are color-changing lights too. Therefore, a mature tree with lots of branches can be a perfect choice to decorate. If you decorate more trees the outlook will be magical. 
Give a rustic look to the trees in your backyard. You can decorate the trees on any festival occasion or for party nights with friends and family. 
Having a fire pit and fairy lights is the best outdoor atmosphere to hang out in and have bbq parties.   
Select The Trees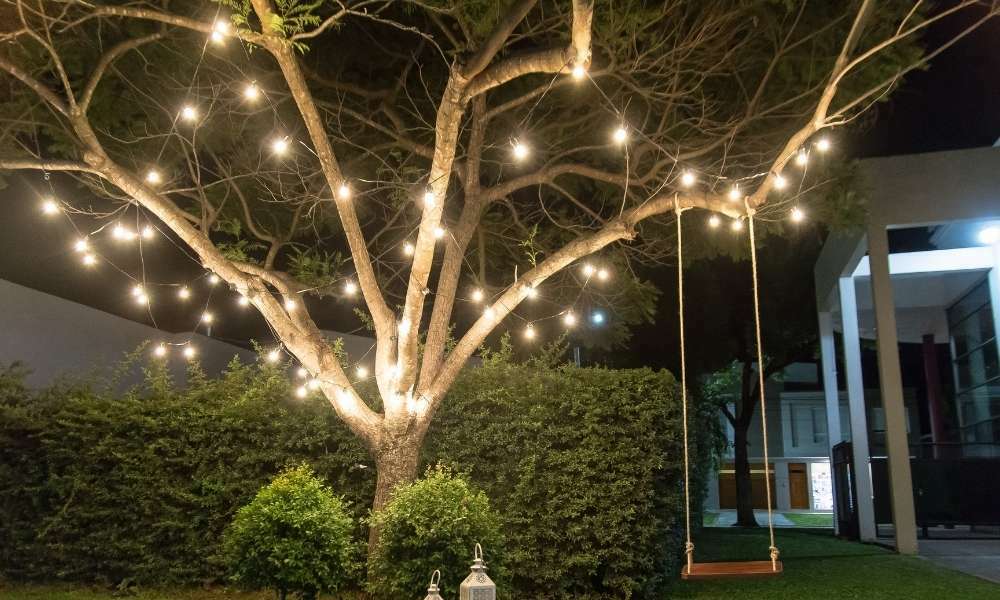 First of all, you need to select the trees where you will decorate the lights. If you are blessed with lots of trees in your backyard, then it will be easy to choose.
Select trees with well-shaped branches and mature trees. It with bare branches are perfect to give a touch of creativity. 
Shrubs and bushes should be enlightened for sure. However, The small ones add a glow to the place.  Trees with lots of branches look amazing with shining. So, You don't have to wrap the in every branch. Select the branches after selecting.  
You need to select the trees which are at the center point and around the backyard area and which are seen from the roads with a nice angle.
Measure The Trees
After selecting, you need to measure the trees. You need to know the number of branches that you are going to wrap. 
Measure the height of the trunk and the branches that have been selected. Use a measuring tape to quantify the length and width. Always buy extra than your required measurement. 
How Many Lights Do You Need?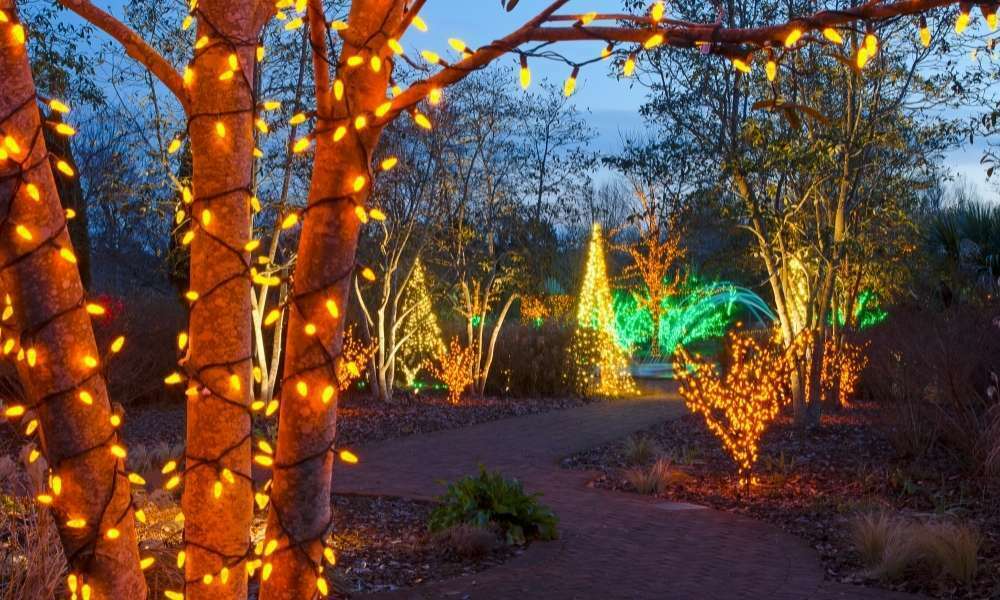 Many people wonder how to decorate outdoor trees with lights as they don't know how many it will be needed. You need to plan how many strings you are going to use on the trees. It also depends on the number of trees you want to wrap.
Experts say that 100-110 are enough to wrap each foot of the trunk of a tree. You may need 25-35 lights in each wrap for the trunks and the branches will need fewer than the trunks. 
Measure the wattage of them as well so that the total wattage of does not cross the maximum range of the mainline of more than 80%. 
Type Of Lights
There are lots of lights with a variety of shapes and designs. You need to buy the according to your choice. Try to create a unique outlook. They should be weatherproof and obviously meant to be used outdoors. 
It will be better if you buy lights that are tested in the laboratory by experts and certified to use outdoors.  
The lights look like sparkling stars when they shine at night and with the glowing outside of the house, it looks like a magical wonderland.
You can use C7 and C9 bulbs for the branches. Fairy and festoon are the most popular lights for wrapping the trees and they look amazing. There are many types of fairies with many colors and designs. They glow brighter and make the place super shiny. 
LED lights are expensive but they save energy and they are long-lasting. LED bulbs do not get hot and they are brighter than incandescent. Again you will get more lights in a string of LED lights than in a string of incandescent lights.   
So it will be better if you choose LED fairy and festoon to decorate an outdoor items. To know more about how to decorate outdoor trees with lights, keep reading. 
Tools you Need
LED Fairy lights at first
LED Festoon secondly
Ladder thirdly
Measuring tape fourthly
Weatherproof extension cords then
GFCI-protected power outlets also
Lighted ornaments
LED Glass bulbs 
Curtain string
Zip ties
Faux Candle
Starburst fairy lights 
Star fairy
Choose A Safe Power Outlet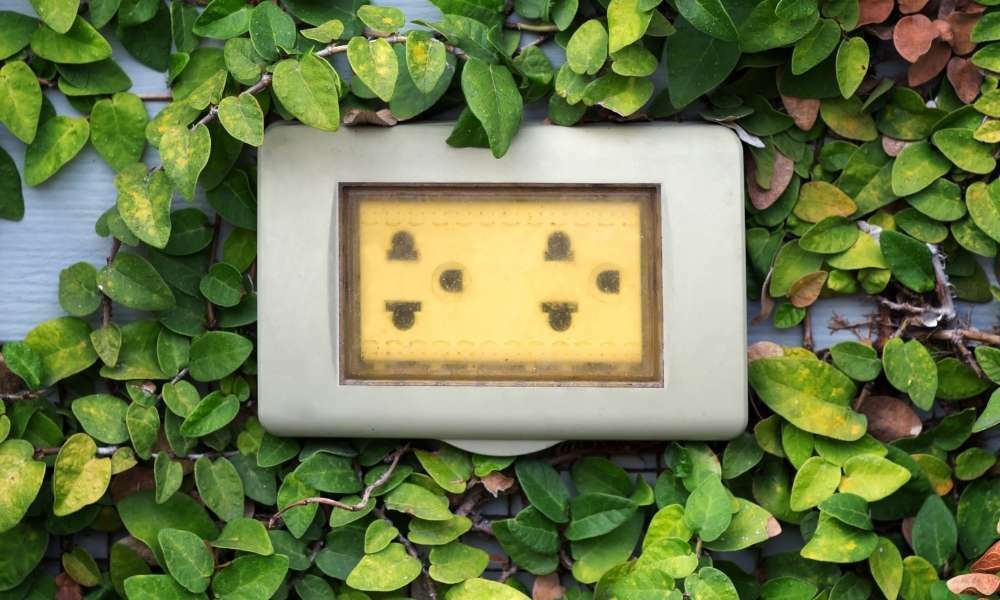 If you are using mains-powered to wrap the tree, you need to plug the cord into a safe outlet. Basically, the wrapping of a tree starts from the base of the tree. Attach the extension cord at the base with the first string of light and plug the cord into the power outlet which is nearby. 
If you decorate lots of trees, you need more power outlets. The power outlets should be nearby and weatherproof. It should be waterproof and GFCI-protected. Otherwise, an electrical shock or short circuit, or accident may happen. So ensure that you have safe and protected power outlets.   
Attach Safe Extension Cords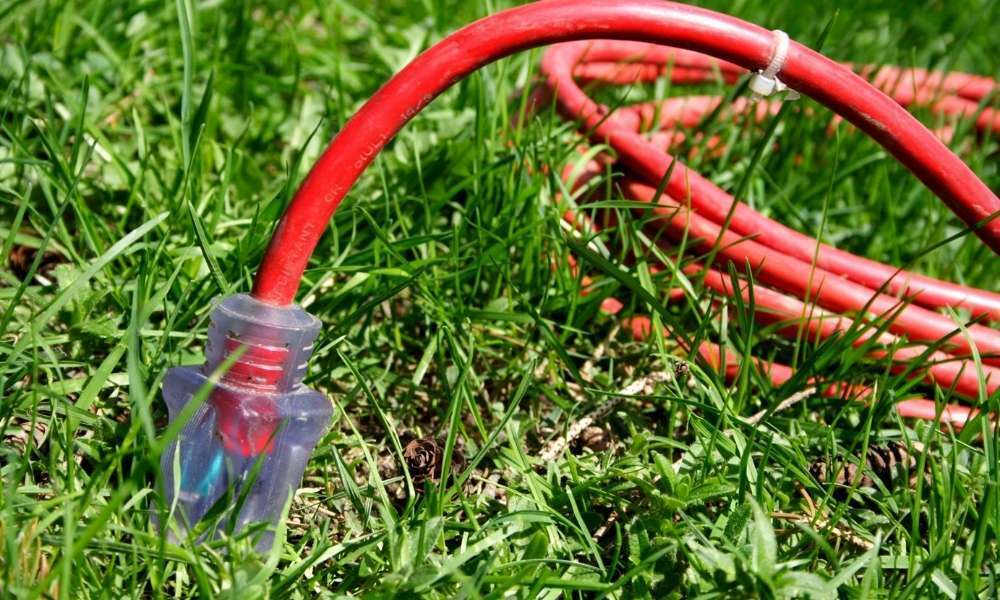 The extension cord should be attached to the first string of at the base of the trunk. You can wrap the cord with the trunk to secure it tightly. So, An extension cord is used to connect the with the power outlet. 
The extension cords often remain outside as they run from the base of the tree to the power outlet. It may get wet or suffer worse weather conditions. So the extension cords should be weatherproof and GFCI-protected to avoid any risk.   
Check The Lights
You must check before hanging them, especially when wrapping the light strings on it. It is a tough process to wrap them on the trees and you can't put off any middle string from the tree if there is any problem. As a result, the whole outlook will be spoiled.   
So you should check the before you hang them on the tree or wrap them with light strings. Check if there are any broken or missing and if the socket is broken or not. Power up and check thoroughly.   
The Ladder Should Be Safe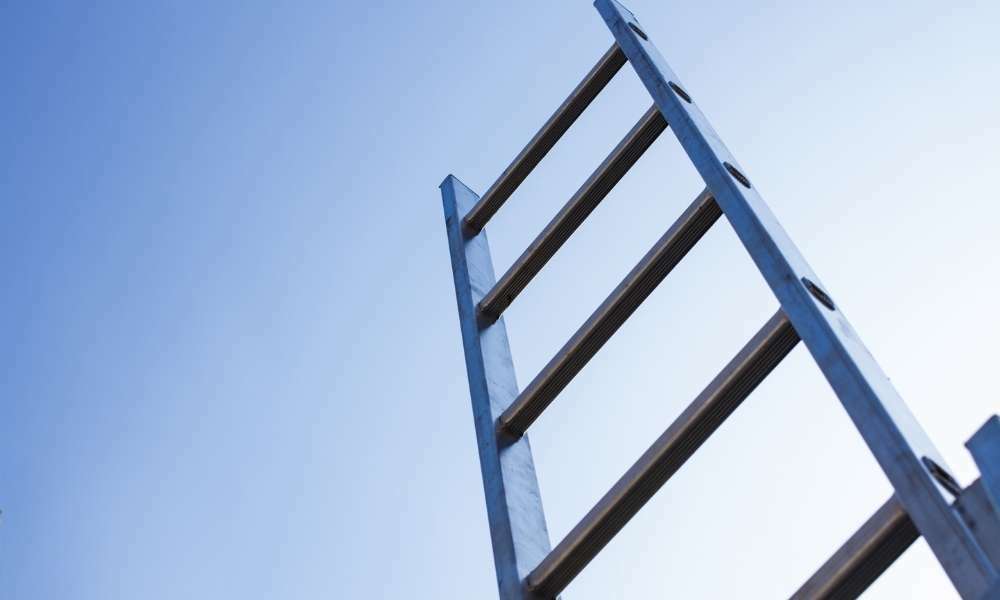 If the height is not too much, then you can use self-supported ladders and wrap the lights. But if the height of the tree is more than 6-7 feet, then take the help of someone who will hold the ladder strongly and keep you safe.
You should also focus on the placing point of the ladder. It should be a leveled ground and keep changing the position of the ladder as you keep wrapping further.
Use a wooden ladder instead of a metal-based ladder. Because a metal-based ladder is not electricity proof and you may get shocked if there is any broken wire somehow or if a short circuit happens by any chance. To secure safety first.    
Start From The Base Of The Trunk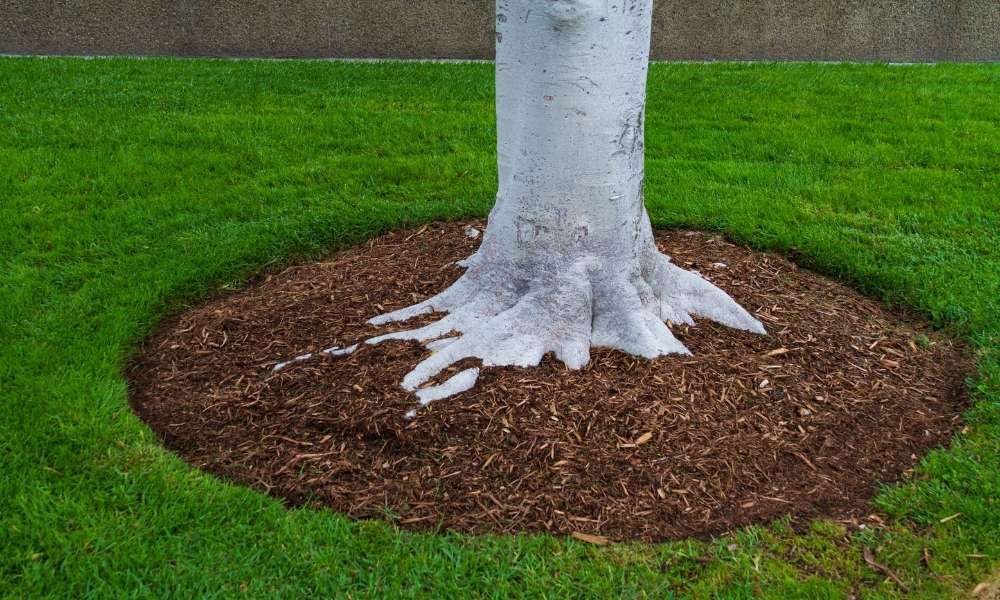 You should start wrapping the strings from the base of the trunk of the trees. Attach the extension cord with the first string and then keep wrapping further.
Once the wrapping of the first string is finished, attach the second string to it. Continue doing the process till the end. Make sure that the strings do not slip down. 
Attach zip ties to secure the strings and wrap them tighter. But one thing you should keep in mind is that you have to put off the zip ties once your party or festival is over. Otherwise, it may cause damage to the tree.     
Finish Nicely
The string ends at the edge of the branches. Wrap the tiny branches as well. Thus it will look like a 'fork or spoon. But if you just wrap till the thicker part of the branches, they will look like 'chopsticks' and it won't be a good finish.
There are extra parts of the strings which you can wrap back to forth toward lower gaps once you have reached the top of the branch.   
Layout And Color Patterns Of Wrapping The Trees
There are lots of patterns and color ideas that you can optimize while wrapping. There are some ideas given below that you may try:
Wrap Evergreen Trees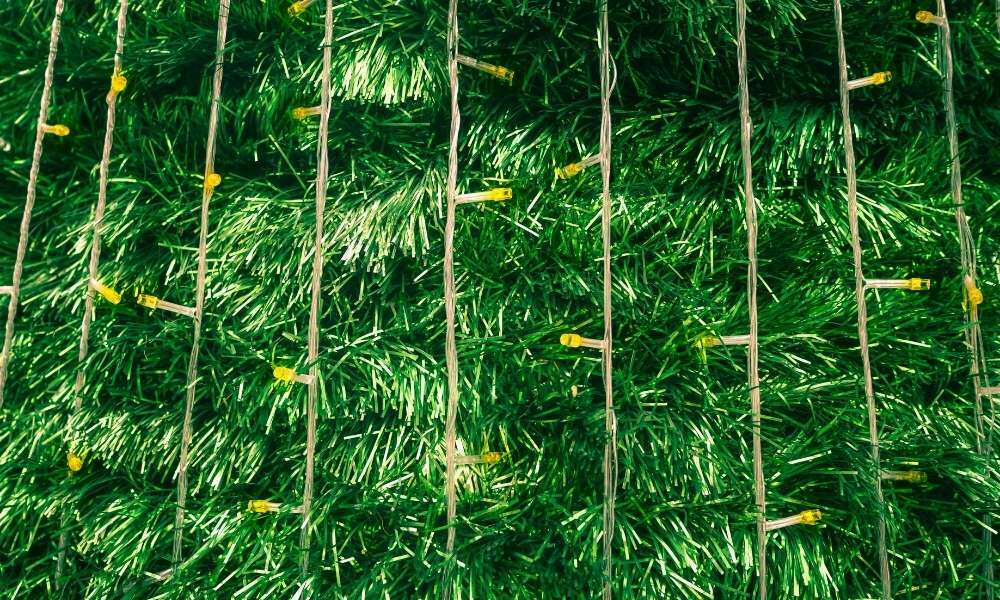 Evergreen trees are taller and have large branches which give you immense opportunity to highlight lots of colors. Therefore, You can wrap warm white or cool white or both in pines or other evergreen trees.
White is an amazing color that makes the outlook super bright and the light sparkles like stars. Warm white gives you a festive vibe and makes your winter parties absolutely gorgeous.
Clear white also shines brighter and gives a cozy feeling. You can wrap them both side by side to make the outlook stunning.
Make Curtain Features
Hanging lights from above always gives a cozy feeling. You can hang the strings of warm white color or ice white color from the long horizontal branches to create certain features which make the party look super gorgeous and gives a positive vibe.
If it seems tough, you can buy curtain string and hang them from the branches like a cascade of string fairy.
Try Wraparound Style
The wraparound style is the most popular design. You can just start from the base of the trunk and keep wrapping around till the top of the branches.
Make a ball of strings and this will make your work easy. Wrap the trees while keeping a similar space between each wrap. Keep 3-4 finger gaps between the wraps.   
Decorate With Blue Fairy Lights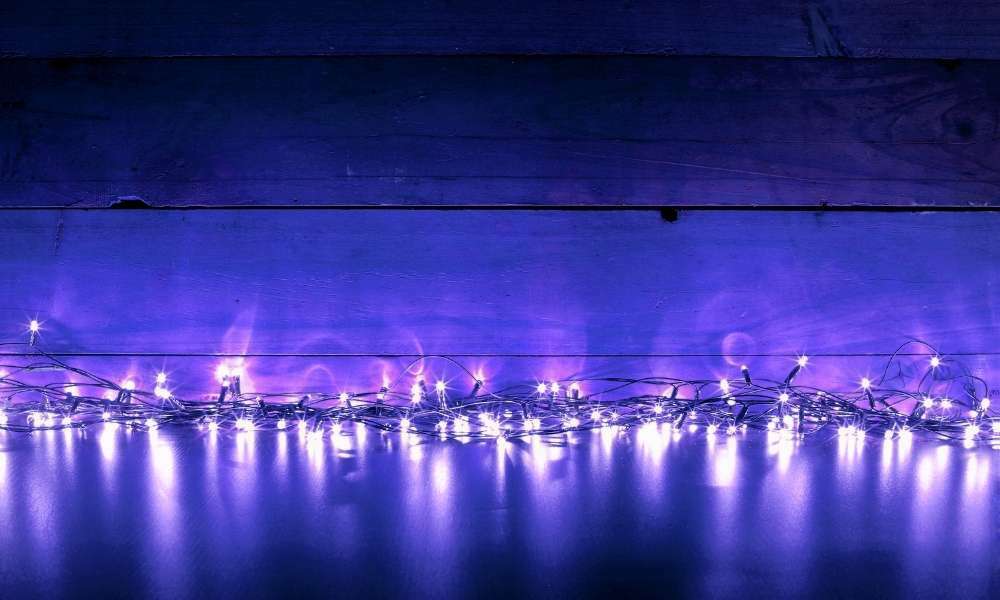 Blue fairy lights will create a unique glow in the atmosphere. Try deep blue fairy and wrap them from the bottom to the top of the tree. You can decorate bushes and shrubs with this light. 
It will give a mesmerizing glow if you use blue fairy which has black cables. So, The black cable will blend with the greenery and the blue will be glowing.    
Use Pastel Fairy Lights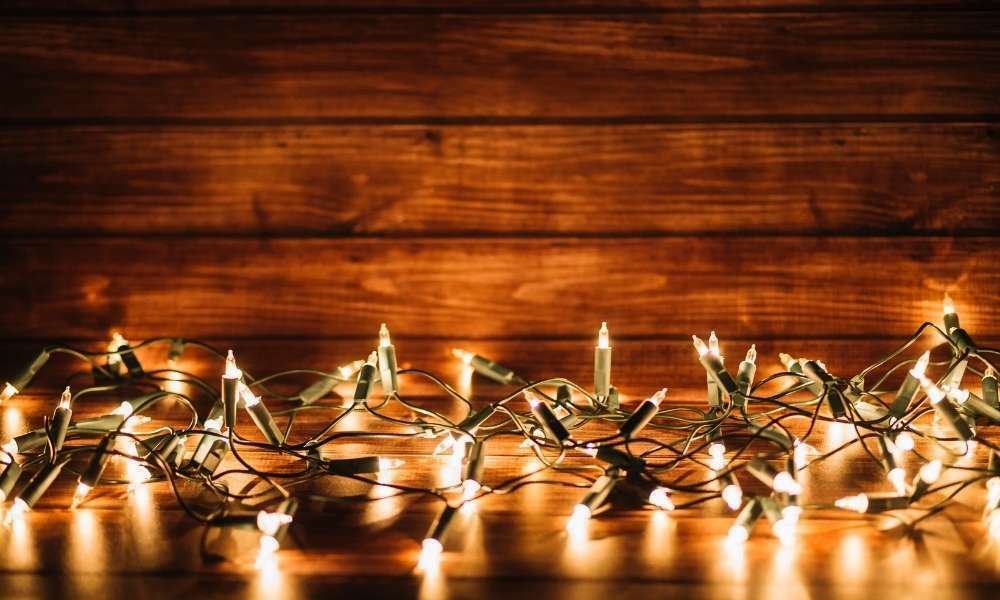 Pastel fairy lights are unique and you can't wrap them in every tree. Trees with lots of branches glow magically with pastel fairy. It will look like a fairyland. 
You will feel like you are in dreamland with the fairy lights. Mesmerized in their stunning outlook. So, They glow more as they come with white cables which highlight the outlook.
Try Multi-Colored Lights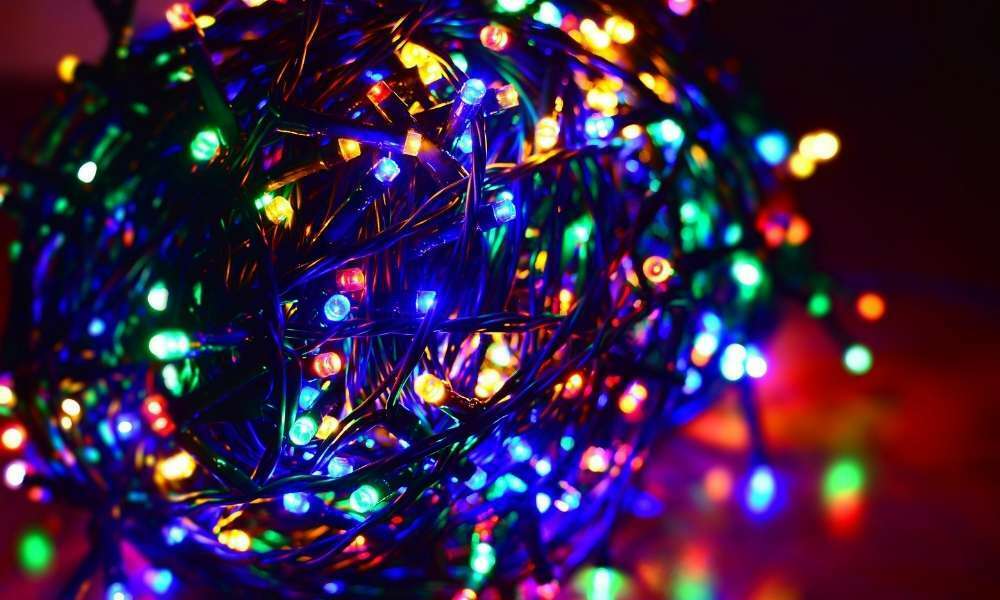 If your backyard has randomly sized trees and bushes together, using multi-colored fairy is a great option. You can use red, white, blue, purple, orange, warm white, and many more colored lights. 
Keep wrapping the trees with multi-colored fairy like it is your canvas to draw and play with lots of colors. When wrapping the bushes and shrubs, make sure that the strings are at least 1-2 feet away from the ground so that they do not come in contact with water or snow. 
Keep It Simple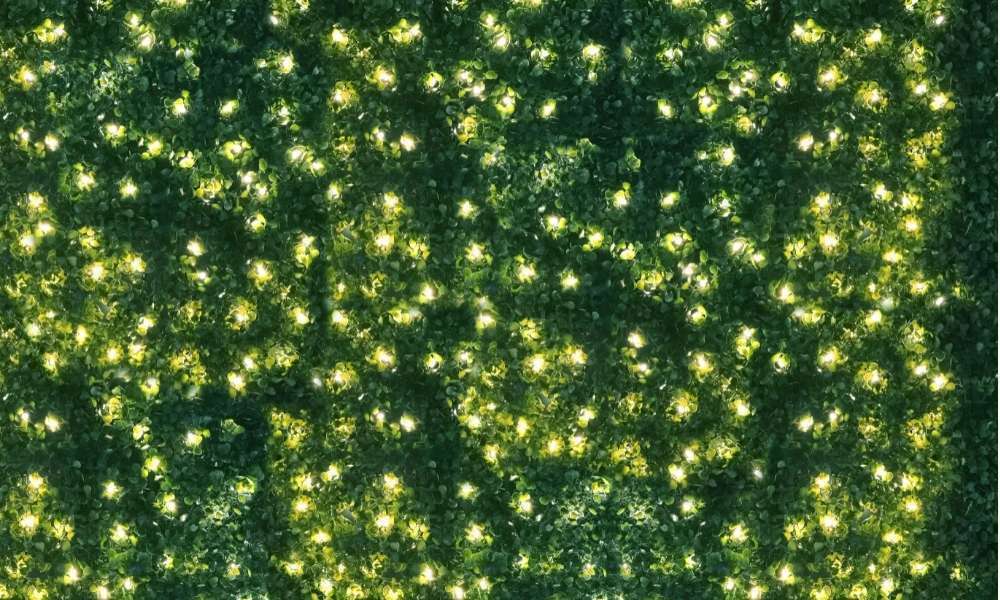 Some people want to keep the outlook soft and simple. Use green fairy which will glow like neon lights and won't look too gorgeous or overwhelming. It will be a soft, pretty, and simple festive look. 
Go For White Glow
White always signifies purity and simplicity. If you are living in an area where snow falls frequently, you can wrap the tree with ice-white-colored fairy which will highlight the snowy ground and surrounding as well. It will be a simple but stunning outlook. 
Use Copper Fairy Lights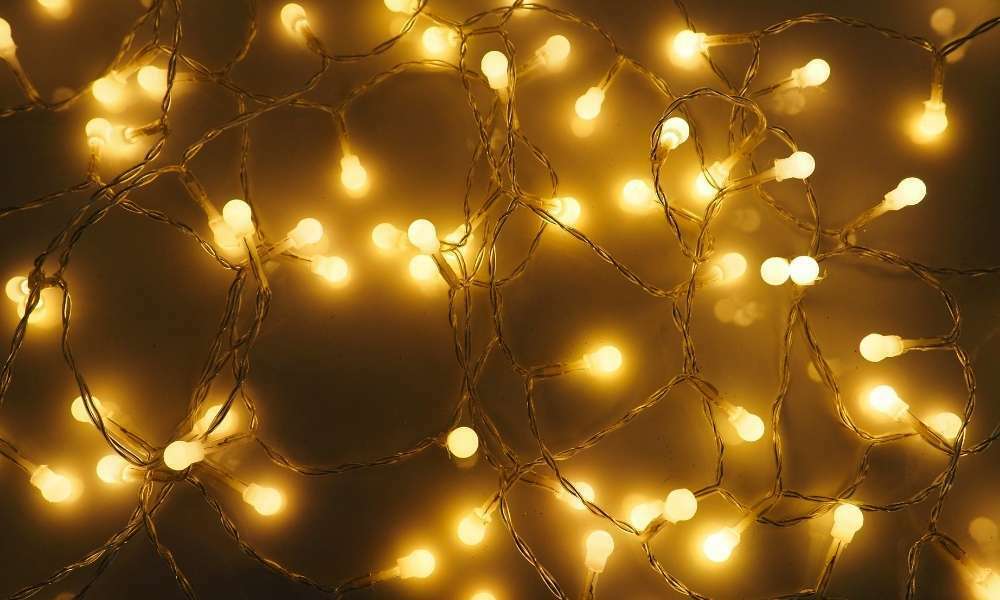 If it is winter outside and you want some warm vibe, then you can wrap the trees with copper lights which come with copper wires.
They have a tinted glow which enhances the warm feeling in winter and makes your festival glow like stars. Therefore, You just can't take your eyes off the sparkling copper and feel the coziness.
Decorate With Faux Candle Lights
This will create a magical look if you hang faux candle from the branches. However, Maybe this is an extra decoration or finishing touch which can enhance the glow and beauty of the place.
Faux candles don't have any risk from the flames as the flames are not real. But it makes the outlook outstanding.
Hang Lighted Ornaments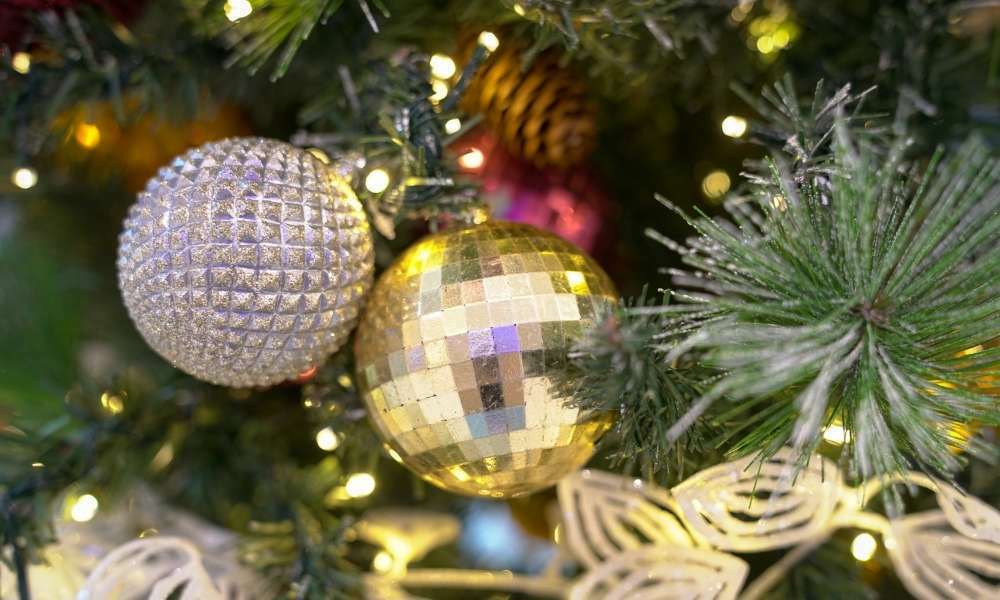 You can hang lighted stars, leaves, pompoms, moons and many more lighted ornaments from the branches to make the glow double.
These ornaments create a magical outlook and they look just like "wow".
Create Fountain Features
If the tree you have chosen for this outlook has lots of branches, keep hanging like cascades from every branch and it will look like a fountain. 
This can create an amazing glow. Trees with lots of branches are perfect for this style.
Use String Glass Bulbs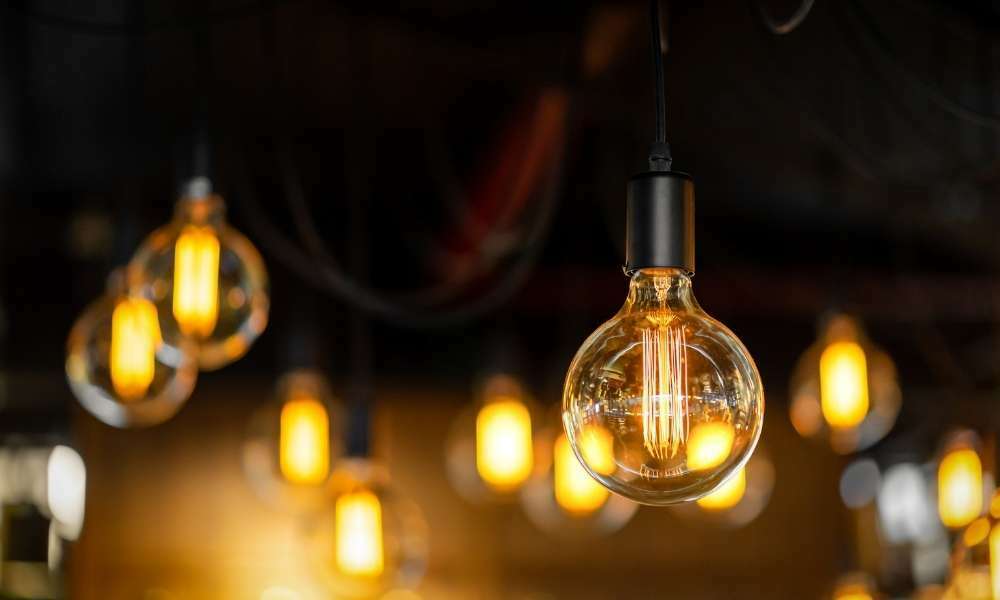 You can use string glass bulbs and wrap them through the branches, they look great. Make sure there are no broken bulbs and the bulbs do not collide with any hard surface while wrapping.
Hang Festoon Lights On Branches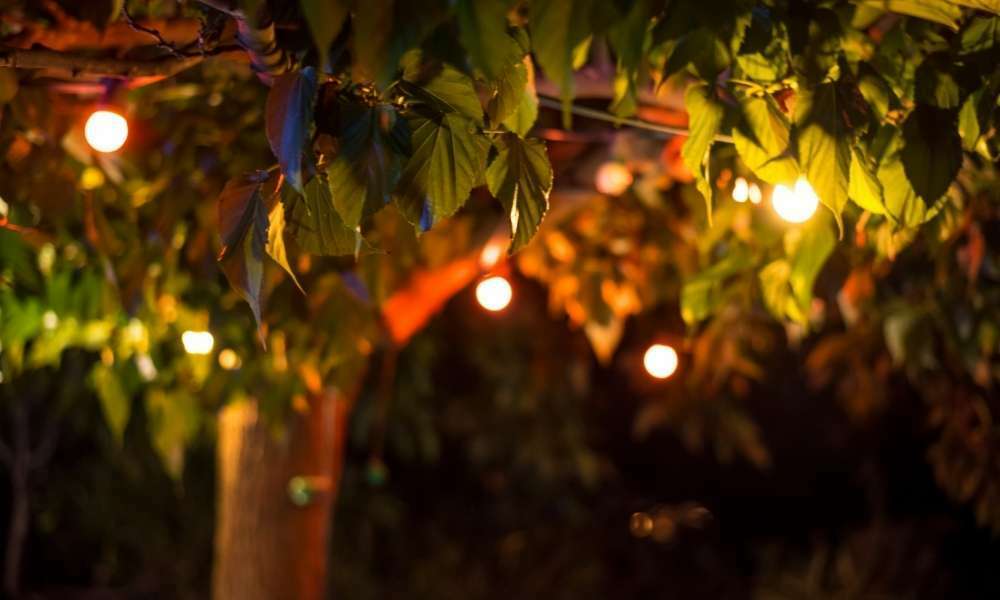 If there are gaps between the branches of the trees then you can hang festoon from one branch to another branch. These also create a festive look on the trees. 
Trunk Wrap Lights
If you are a beginner at wrapping and you want to wrap just the trunk of the trees,  then the easiest way for you is to buy trunk wrap lights. 
You can also wrap strings through the trunk of a tree. But trunk wrap saves your time and make your work easy. They come in a grid style and you just need to wrap the light. Attach with an extension cord if the light is mains powered.
To know more about how to decorate outdoor trees with lights, continue reading.
Are Solar Bulbs Best?
Solar bulbs don't need an outlet or extension cords. They get charged by the sunlight and light up when it is dusk.
But solar lights can go out of energy and solar are not as bright as mains powered.
Set The Timer
While buying for wrapping the trees, check if it has the timer setting option or not. Always buy which have a timer setting option. After wrapping the trees, electrify them by turning the power on and setting the timer.
By setting the timer, you can save electricity from getting wasted and it will automatically turn on and off according to the time you have set. 
Conclusion
Outdoor lights make the trees look magical and make you feel like you are in your dreamland. The mesmerizing beauty and elegance express your creative thoughts and give your guests a warm welcome.
As you have learned how to decorate outdoor trees with lights, now you can wrap the trees of your backyard nicely and mesmerize everyone. If you have liked this article, comment below and let us know your opinion. Have a good day!