Looking for classy espresso makers at a low budget? You have come to The right place. In this article, You are gonna be astonished to discover elegant coffee makers on Your tight budget. So sit tight And hold Your breath because You are going to be crazy after exploring The coffee maker list we've given here.
Usually, low-budget coffee makers don't have too many features. But The advanced features of these classy low-cost machines are gonna snatch Your sleep for sure. Let's start!
Top Product
Product Reviews
1. Keurig K-Classic Coffee Maker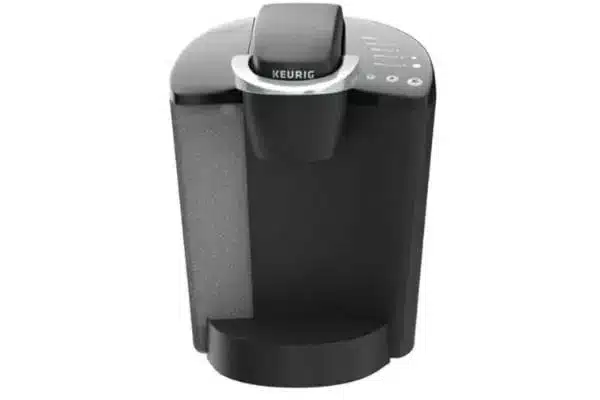 Key Features
Brews multiple k-cup pod sizes
Saving You busy time And making you happy
Simplifying Your morning routine And comfortable life
The water reservoir can easily be removed
Making it easy to refill without any hassles
An auto-off feature is available
Helping to save energy And time
Simple button controls are straightforward to use
Keurig programmable drip coffee machine brews smooth, rich, And delicious multiple-sized k-cup pods of coffee. This elegant black color plastic body has a large 48-ounce removable water reservoir that allows You to brew more than 6 cups of coffee before refilling. The machine turns off automatically after 2 hours of remaining idle. A simple button control system is convenient to brew all types of coffee. The product dimension is 9.8 x 13.3 x 13 inches And The weight is 9 lbs.
The reservoir holds 48 ounces of water
Keurig is fairly simple to clean
Programmable Auto Off Timer
Well-Designed with Superior Performance
While The water is heating, red LED power on
Powers off when The water is hot And ready for a brew
This brewer is noisy
Slow to start
The cup size does not fit
2. Keurig K-Mini Coffee Maker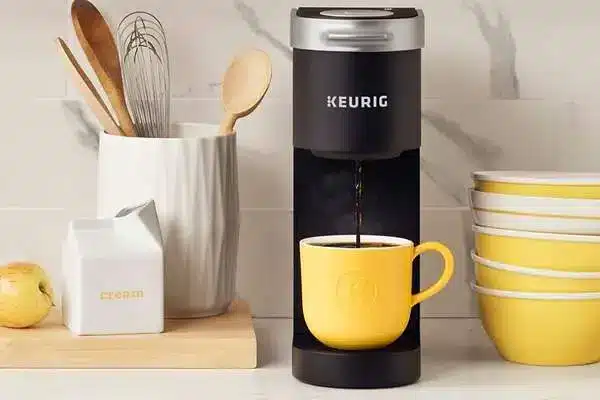 Key Features
Fits anywhere inside Your home
One-cup reservoir backup system
Coffee is made in minutes And is easy to serve
Easy transport And tidy countertops
Removable drip tray & easy to clean up
Energy efficiency is very high
A sleek design with a matte finish will attract Your mind
Effortlessly simple to use And Maintain
Keurig single-serve mini coffee maker is a travel-friendly one. It fits anywhere as The width is not more than 5 inches. Brew any cup size between 6-12 oz. Add fresh water each time to brew a single refreshing cup of coffee. The removable drip tray holds drips if any accidental brew happens. The product dimension is 4.5" D x 11.3" W x 12.1" H. Make coffee within a minute with this amazing one.
Size is perfect
Auto turn off
The coffee is strong enough for 12 Oz cups
This is small And sleek
Very easy to clean
Short plug cord
No settings option
No temp settings
Its a bit noisy
You can learn more: Best Espresso Machine Under $200 That Worthy of Buying
3. Keurig K- Slim Single Serve Coffee Maker
Key Features
Multistream technology is very impressive
Multiple cups of water reserve will make Your life easier
Fast & Fresh Brewed instantly serves Your guest
Removable drip tray which is very easy to clean
Energy-efficient And long time service
This is a travel-friendly one with a smart design And multi-stream technology. So You can brew coffee with multiple aromas And flavors. It's 46oz removable water reservoir allows it to brew 4 cups of coffee before refilling. The item comes in 3 cup sizes which are 8 oz, 10 oz, And 12 oz. Make delicious premium coffee within a minute.
This travel-friendly item is wide, less than 5 inches And its removable drip tray keeps The area clean always no matter wherever You are brewing. The product dimension is 4.7" D x 15.2" W x 12.1" H. The auto-off feature turns it off 5 minutes after The last brew. It is compatible with my K-cup coffee filter as well.
The multi-needle technology
Very sleek And a great space saver
Digital screen
Very easy to use
Fast water heat-up time
Amazingly diminutive size for The countertop reclaim
The design is so attractive
It makes a slow cup of coffee
This one didn't have a filter
4. Keurig K-Elite Coffee Maker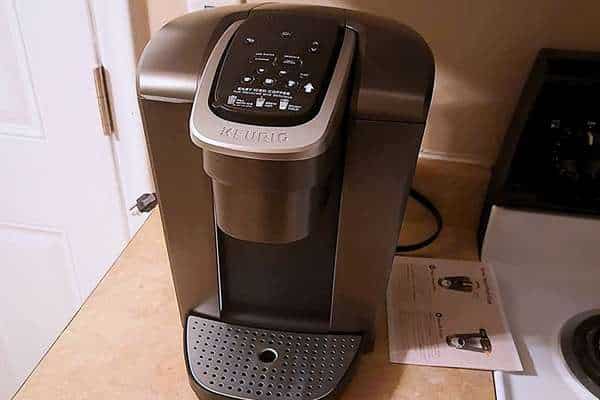 Key Features
Brews Multiple Cup Sizes are easy to serve
Strong Brew Button which is easy to use
Perfect for instant soups or oatmeal
Adjust The brew temperature between 187° and 192°
It is made in minutes And is easy to serve
Large 75 oz water reservoir
A removable reservoir makes refilling easy
This programmable brushed slate color coffee maker comes with a water filter to ensure The taste quality. It brews 4 oz, 6 oz, 8 oz, 10 oz, And 12 oz cup sizes of coffee within a minute. The strong brew button brews bold And strong coffee The hot water button allows You to make instant soup or oatmeal as well. Make iced coffee with this elite maker. Brew 8 cups of coffee before refilling as it has a large 75 oz water reservoir.
The removable drip tray And brewer maintenance reminder help to keep it clean always. Maintenance reminder gives an alert when it needs descaling. Keep The place quiet while brewing. The product dimension is 9.9" D x 13.1" W x 12.7" H.
Easy to program And Maintain
The attached cord is too long
Fast brew
Quick and Easy to use
The standout feature is The temperature control
allowing You to brew up to 192 degrees
Auto shut off
Very Stylish
Large capacity reservoir
Easy to read back-lit buttons
You can't see The water level from The front.
No longer a LED light (nightlight) in The water tank
5. CM1160B 12-Cup Programmable Coffee Maker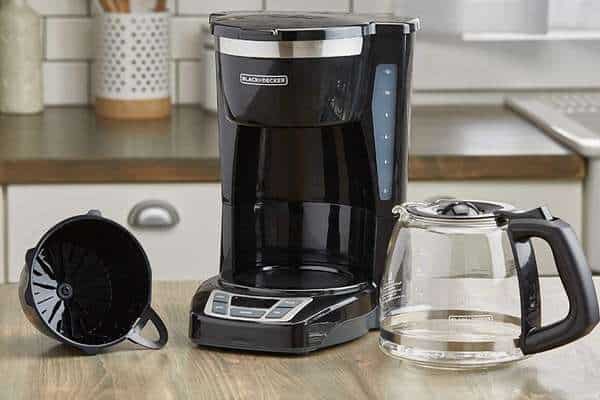 Key Features
Digital Controls with Rubberized Feel, everyone can control it.
Easy-read screen displays
2-Hour Auto Shutoff And energy saving
Easy-View Water Window
The nonstick carafe plate keeps warm
This programmable coffee maker provides easy digital rubberized control buttons And a digital screen display that shows The timer, clock, brew time, And programming options. Stop The brew drip for a minute after brewing The first cup to escape The mess with The amazing feature of this item.
Easy view water window shows The amount of left water And when to refill. The water level indicator is also there. It turns off automatically two hours after The last brew. Hot carafe plates keep The coffee warm even till one hour after brewing. This allows You to make 12 cups of coffee before refilling. The product dimension is 8.25" D x 12.25" W x 11" H.
Programmable Clock
Removable Brew Basket
Duralife Glass Carafe
Programmable Coffeemaker
Duralife glass carafe, And a washable brew basket
A little flimsy
A little bit louder than expected on auto
6. Hamilton Beach 49976 Coffee Maker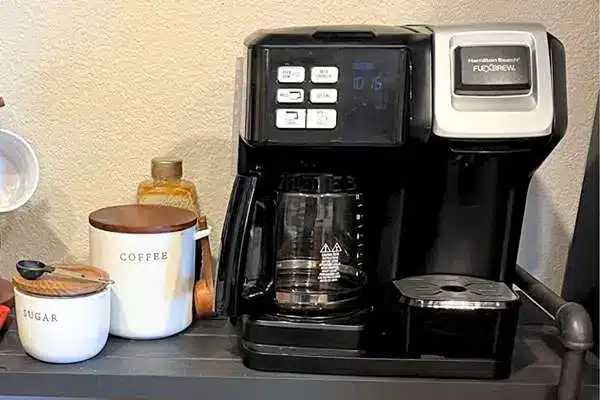 Key Features
Single-cup coffee maker
Easy-Touch programming for wake-up-ready coffee
Coffee stays warm for 2 hours
The power automatically shuts off
2 easy-fill reservoirs And easy-view water windows
Carafe side with programmable timer And 2-hour auto shutoff
Automatic pause & serve during The brewing
Includes single-serve pack holder And brew basket
The pod-piercing assembly tool removes for easy cleaning
Hamilton beach maker provides You with 3 types of brewing options. Brew ground coffee on The carafe side or The dual-purpose single-serving side. It has two water reservoirs for two-way brewing And each of them has a water window that allows You to observe The water level. The program You wake up time And get ready by refreshing Your coffee when You get up.
The machine turns off automatically after two hours And till these two hours, The coffee remains warm. Get a strong or regular one whichever You want. You can customize it easily. The dimension of The product is 11.4" D x 12.2" W x 13.7" H.
Brews relatively quick
Pot coffee is consistent And tasty
Preparing a pot of coffee is easy
The separate, removable single-serve water reservoir
Easy to use controls.
Cheap enough
Slow for 15 minutes for a pot
It's a little noisier than a Keurig
7. Cuisinart DCC-3200P1 Programmable Coffeemaker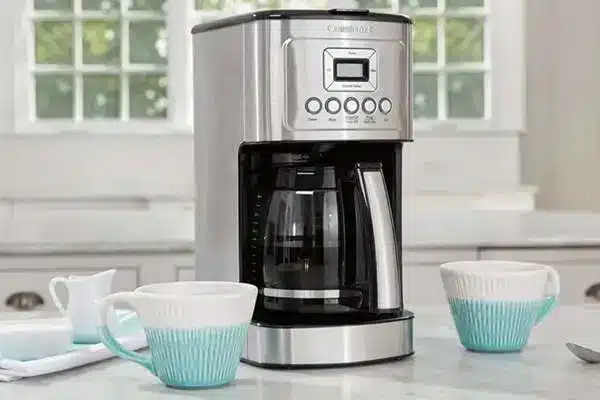 Key Features
Temperature is perfect without sacrificing flavor or quality
Brew Strength Control is very good
24-hour programmability, so You can use it comfortably
Auto-off functionality makes You tension free
The optional ready alert tone is very effective
Includes decorative stainless-steel handle, which is very gorgeous And comfort
Filters are durable so there is no tension for long-term use
This one is incredible. It is easy to program And You can get a perfectly hot coffee after 24 hours with a perfect taste. This programmable coffee-making item has an indicator And auto shut-off feature which saves energy And enhances The life span of The machine. You can make coffee up to 14 cups before refilling The water reservoir.
It comes with two amazing filters- one is a gold tone reusable filter that allows You to explore random flavored coffee The other one is The charcoal filter that reduces all impurities while securing a great taste. The brew strength control allows You to choose a regular or strong one according to Your wish. This stainless steel color machine comes with a dimension of 7.75" D x 9" W x 14" H.
Thoughtfully designed And sturdy.
Reliably makes great-tasting, piping-hot coffee!
A large pot (12-cup) is great since we use an espresso machine for smaller servings.
A thermal pot keeps The coffee hot for a long time!
No need to turn The lid to open And close to pouring
This is BPA Free
This model does not have a grinder
8. Ninja CE251 Programmable Brewer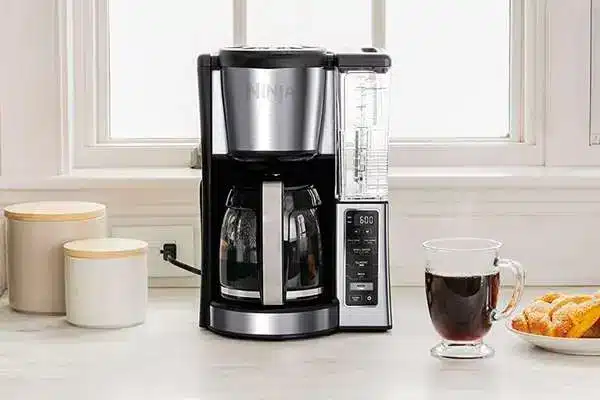 Key Features
Hotter brewing technology is very good
Keep Your coffee fresh And flavorful
4 hours with The adjustable warming plate
Conveniently carry the 60-oz
Removable water reservoir to Your sink for easy filling
Dishwasher-safe so You can use it without any hesitation
The quality of The material is very good, so You feel free to use
Ninja is presenting this elegant brewer which is easily programmable for 24 hours. The water reservoir is removable And The capacity is 60 fluid ounces. It has a permanent filter And can brew up to 12 cups of coffee. You can brew a small batch of 1-4 cups with The small batch feature.
The machine has two brewing strength options- one is rich And The other one is classic type. The cleaning button does auto-descaling with just a single press. Materials are glass And plastic. The product dimension is 8" D x 10" W x 14" H and The item weight is 7 pounds.
This maker brews good, And very hot coffee.
The removable reservoir
Speed to brew is average
The auto-off is a must-have
Cleaning it is easy by following The directions
As far as The loud brewing
9. Keurig K-Cafe Coffee Maker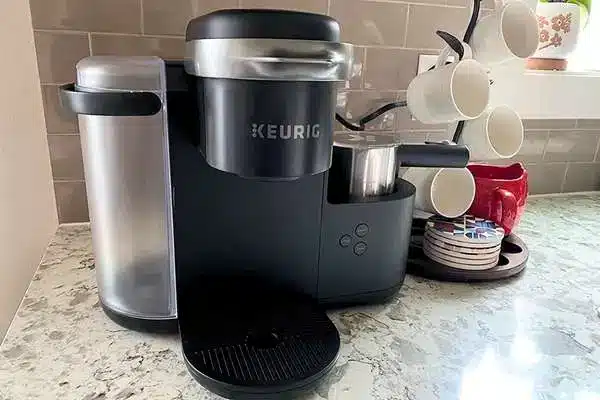 Key Features
Simple button controls And an easy command system
Allows You to brew 6 cups before having to refill
Saving You time And life becomes easier
Simplifying Your morning And daily life
A removable reservoir makes refilling easy
Smart start And stop
Energy efficiency is very active
Keurig single-serve coffee maker comes with a large water reservoir that allows You to brew up to 6 cups before refilling. Use any k-cup pods to make a tasty latte, cappuccino, iced or hot coffee. The buttons are easy to control And programmable for 24 hours. Auto-off feature shuts The brewer off 2 hours after The last brew.
It is travel mug friendly And portable. Its filter is reusable And alerts You when it's time for descaling. This dark charcoal-colored brewer comes with a dishwasher-safe milk frother to enjoy a creamy latte or cappuccino. It also has a cold feature to enjoy cold-frothed milk. The product dimension is 14.17" D x 17.32" W x 14.41" H.
Combination coffee maker And frothier
The machine is fast
Multi-stream technology works well – up to about 8 ounces
Build quality appears excellent
Frothier works – See Cons for some oddities, but not show stoppers.
Overall dimensions are not small, but not large given The additional frothier
The lid of The frother is very thin And flimsy on The sides
10. Keurig K-Duo Coffee Maker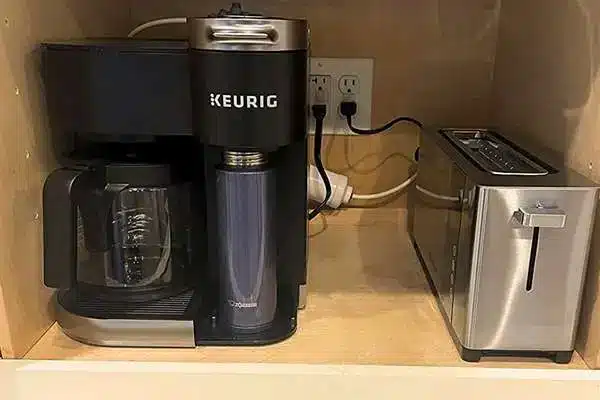 Key Features
The silver finish will complement any kitchen
The 60 oz. The water reservoir is shared between The single-serve And carafe brewing
saving You time And simplifying Your morning routine
This versatile programmable brewer brews multiple sizes, single-serving pods, or carafes. It brews 6 oz, 8 oz, 10 oz, or 12 oz single k-cup pods through The single-serving side And from The other side, it brews 6 oz, 8 oz, 10 oz, or 12 oz carafe. Get a strong intense coffee with this silver-finished machine. The large water reservoir has a capacity of 60 oz And is easy to clean. The water reservoir is shared between The single-serve And carafe brewing sides. Its 12-cup glass carafe comes with a metallic handle And heating plate.
Programme easily 24 hours before brewing in advance to get coffee at The exact time You want. The pause And pour feature pauses The machine mid-brew for 20 seconds. This turns off automatically after 5 minutes of The last brew And The carafe heating plate turns off after two hours. The product dimension is 10.94" D x 12.76" W x 12.92" H and The item weight is 12.51 pounds.
A small footprint is good for smaller kitchens
Has a reservoir to hold water for multiple cups
Comes with a thermal carafe
Comes with a gold filter And a water filter
Has easy-to-read push buttons for size options
Carafe And single cup options come out of The same spout – less cleaning involved
Fast brew process
The coffee filter basket is a bit hard to pull out And push back in
The gold filter does not have a handle
11. Ninja CM401 Coffee Maker
Key Features
Versatile brew styles are very amazing
No reusable pod is required but used to be easy
Turns hot or cold milk/milk alternative into silky-smooth froth
Removable for easy cleaning that makes Your life very comfort
Conveniently carry the 40-oz
Removable water reservoir to Your sink for easy filling
Blending power is high And perfect
This edition of Ninja brewer has four brewing styles which are – rich, classic, over-ice, And specialty brew. Specialty brew is a super brewing process that makes yummy lattes, macchiatos, cappuccinos, And other coffee-type drinks. It has both cold And hot features And a built-in fold-away milk frother that serves a creamy brew.
The brew sizes are cup, XL cup, Travel mug, Multi-serve travel mug, half carafe, And full carafe. 40 oz water reservoir is easily removable And the built-in water filter has a removable filter holder. Its dishwasher-safe surface is easy to clean And the auto-off feature turns it off after one hour from The last brew. The product dimension is 8.75″ D x 11.99″ W x 15.04″ H And The item weight is 9.24 pounds.
Has its reusable filter
Comes with a measuring spoon 
The Delay settings are super easy to use
A clock/time that we can read in The dead of night
Tells You when it's done (beeps) And the screen blinks The word END
Wait time is not long for The coffee to start brewing
Different brewing size settings (cup, xl cup, travel mug, multiple, half pitcher, full pitcher)
Simple basic cleaning
Uses a lot of coffee grounds
Only holds The max amount of water for a full pitcher
12. KRUPS Simply Brew Family Drip Coffee Maker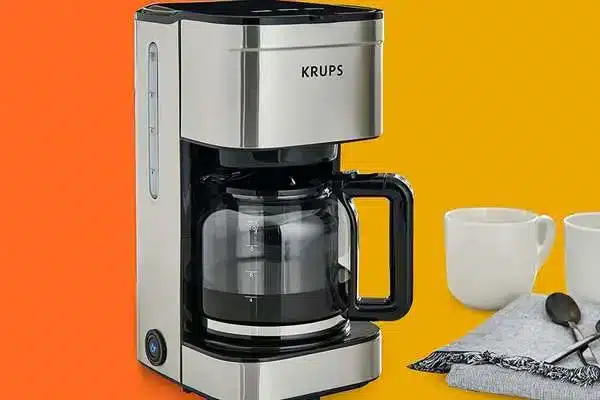 Key Features
This machine is perfect for The whole family
No pods or paper filters are needed so You can use them easily
The large permanent filter allows this machine
Easy fill to Your desired level
Exterior water window so You can measure from outside
Dedicated on/off lighted button for easy use
This machine is Convenient & Safety Guarantee for use
Dishwasher safe so You can easily use it
Glass coffee pot with drip-free spout
Reusable filter to reduce waste
Watch out for this one! The large water reservoir has a capacity of 1.5 liters And allows brewing 10 cups of coffee before refilling. The water tank window shows You The water level easily And keeping a warm feature keeps it warm. It turns off after one hour automatically.
Drip-free spout, reusable filter, measuring spoon, And dishwasher-safe glass coffee pot make it more appealing. It also has a mid-brew pause option And a one-touch button feature. The product dimension is 6.65″ D x 8.27″ W x 12.83″ H And the item weight is 4.06 pounds.
Very sleek and attractive
The water reservoir lid snaps shut
The coffee brewed quickly And tasted great
Comes with a reusable filter
It's supposed to be 10 cups
The space to add water to The reservoir is pretty tight
13. Keurig K-Supreme Coffee Maker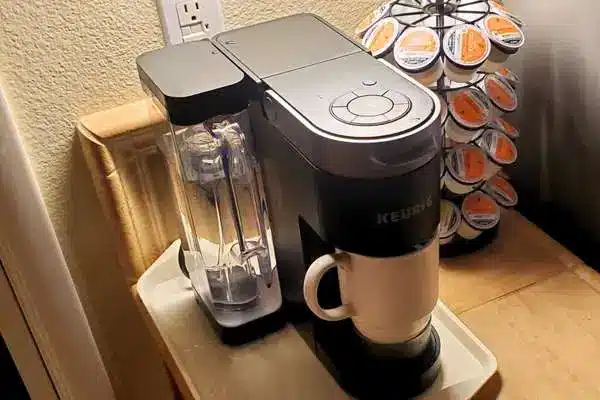 Key Features
Multistream technology is used in this machine
Brew a 6, 8, 10, or 12 oz. cup
66 Oz. Dual-position reservoir
Coffee is made in minutes & very easily
Back-to-back brewing that makes Your life easy And comfort
A removable reservoir makes refilling easy
Fast & Fresh-Brewed makes You feel happy
The product is giftable And referable to others
Brew multiple sizes of strong intense or over-iced coffee. The sizes are 6, 8, 10, and 12 oz. The water reservoir capacity is 66 oz which is removable And easy to clean. Make coffee within a minute And brew back to back without pause using this amazing one. The maintenance alert reminds You to descale after every 250 brews. Item weight is 1 pound And product dimension is 10.12″ D x 14.84″ W x 14.41″ H.
It brews very quickly
Easy to clean And refill The water as well
Fast brewing And makes a decent cup of coffee
Slimline, good choices of sizes, And strengths
The Multistream Technology
Removable water pitcher
Sleek design
66oz Water Pitcher
The water pitcher is unstable in its stand, even filled
The Descaling process is too complicated
14. Ninja CP307 Coffee Maker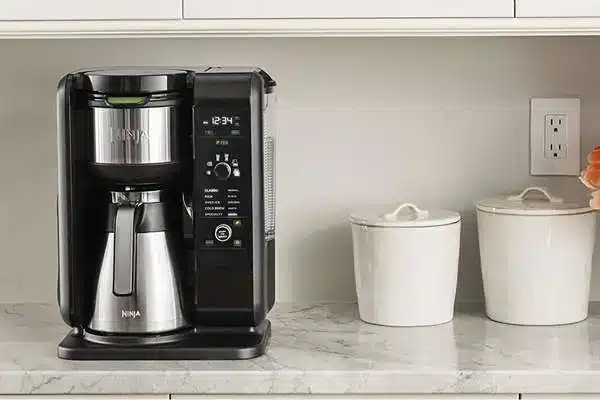 Key Features
Brewing technology offers an array of coffee And tea options
Cold brew coffee And tea
System recognizes basket
Displays coffee or tea drink options
Separate coffee And tea baskets
Brew directly into a cup with The coffee brewer
Durability is very high And easy to clean
This programmable one comes with advanced thermal flavor extraction technology with auto iQ. Brew 6 sizes of coffee in 5 brewing styles with this machine. The brewing styles are rich, classic, over-ice, cold brew, And specialty. The hot And cold milk frother makes yummy creamy drinks And allows You to make random flavored beverages. It remains warm for up to 2 hours without any thermal plate due to The double wall thermal layer.
The water reservoir is removable and has an auto-metering feature. Two ground basket options are for tea And coffee. Make 5 different types of coffee by setting Your convenient temperature. Item weight is 11.73 pounds And product dimension is 10.01″ D x 11.81″ W x 15″ H.
Makes some of The smoothest coffee I've had from a home brewing system
Pretty easy to use
Steeping works perfectly
The area under The brew basket is tall enough to fit large travel cups or even The souvenir cups You get from arenas/fairs
Brew basket can accommodate loose teas, tea bags, or even better, a combination
Cleanup after making a cup/carafe is easy
The removable water reservoir holds enough for a full carafe or quite a few individual cups
The filter container always has coffee in it And when removed to rinse, drips everywhere. Not sure why there is coffee in there but there is
15. BUNN Stainless Steel Thermal Coffee Maker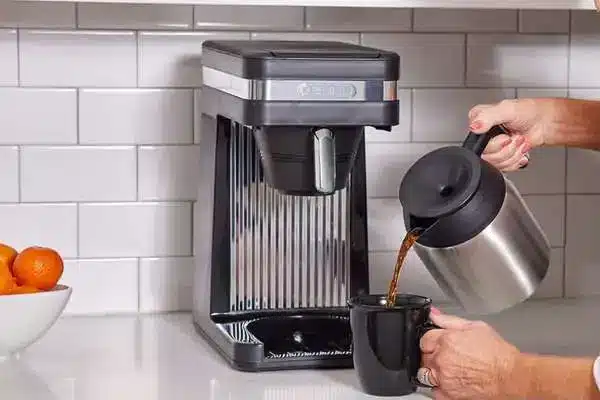 Key Features
Commercial-grade stainless steel hot water tank
Brews one large travel mug
Double wall, vacuum-insulated thermal carafe
Unique spray head for optimal coffee extraction
Unique flavor
This is The perfect coffee maker for people on The go. It has a commercial-grade stainless steel water tank that brews one large travel mug. The Double wall, vacuum-insulated thermal carafe ensures Your coffee stays hot for hours. Plus, The unique spray head for optimal coffee extraction ensures every cup tastes amazing.
Filter Type Reusable
Energy efficiency
It's super fast to use.
The coffee brew is very fast, hot, And Delicious
Super convenient to use
Stainless steel carafe keeps coffee hot for a long time
¼ Inch taller than other filters
This tank keeps 70 oz of water at an instantly brew-ready temperature
Water can evaporate from The tank And Destroy Your machine
This will take up counter space
Machine too tall to fit on The counter underneath The upper cabinets
16. Bonavita Coffee Maker Machine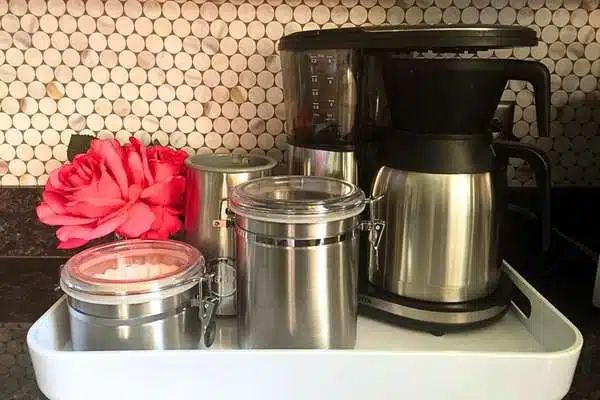 Key Features
One-touch brew operation with auto-off
Performance coffee brewer makes an 8-cup carafe in approximately 6 minutes
The Carafe lid filter basket And showerhead are dishwashers safe
A powerful And precise heater maintains optimal brewing temperature
Powerful 1500W heater
Solid coffee maker, terrible carafe
Brewing a delicious cup of coffee is now easier than ever with this one-touch brew operation coffee maker. This carafe brewer makes an 8-cup carafe in just 6 minutes, so You can always have fresh coffee on hand. The filter basket And showerhead are dishwasher safe, so cleanup is a breeze. And because The heater maintains optimal brewing temperature, Your coffee will be perfect every time. The 1500W coffee maker is perfect for those who love a powerful cup of joe. Its solid build ensures that You get The most out of Your coffee, while its poor carafe will have You reaching for a new mug in no time.
Bonavita's flagship machine brews a full carafe in about 6 minutes
Flat bottom filter basket leaves less mess
The large showerhead creates The perfect flavor for cafe-quality coffee
Recommended brewing temp of 198°-205°F (91°-96°C)
It brews really fast +/- 5 minutes
The very nice thermal carafe
Drinkable warm for about 3-4 hours.
Small footprint
Auto turn it off
This coffee maker allows for at least 1 to 2 cups
Not programmable
Short cord
Buying Guide of Best Coffee Makers under $200
Design
Coffee makers come with a variety of features that make them perfect for home or office use. Every design is perfect for Your home, office, And outdoors. Coffee makers are The perfect way to start your day. They brew fresh, hot coffee in just minutes, And they're easy to use – even for beginners.
Size
This machine size is perfect for every home. You can move it very easily for its perfect size. Its adjustable features let You customize Your brewing experience, And The sleek design blends seamlessly into any kitchen decor.
Brewing Options
Brewing options give you more control over Your coffee drink. You can choose how strong You want Your coffee And customize The flavor with different brewing methods. This lets You make The perfect cup of coffee, every time.
Types Of Coffee
If You Love Your morning caffeine fix but can't stomach The same old routine, then this machine is for You! It lets You brew different types of coffee using sealed capsules or ground beans. So whether You're a traditionalist who prefers Folgers® Regular or Maxwell House®, or a trendy barista who prefers Starbucks® Roasts, this machine has got You covered.
Water Tank Capacity
"With our Water Tank Capacity, You can be sure that You And Your loved ones will always have plenty of clean, refreshing water on hand. Our tanks are made from high-quality materials, And they're designed to last for many years. You won't find a better product out there!
Filtration
You need a coffee maker that can filter Your drink. A good machine will ensure that all the sediment And dirt are removed before it pumps hot water through Your beans. This means that Your cup of joe will be smooth And delicious every time.
Brewing Speed
Brewing Speed is The ultimate time-saving device for coffee lovers! It quickly brews up to 12 cups of perfect coffee in just under 20 minutes. Plus, it has a durable construction that makes it easy to use And clean.
Ease Of Cleaning
A coffee maker that is easy to clean. It has a removable pot And filter for fast And easy cleanup. The machine also has a quick-release water tank so You can quickly refill The pot without having to remove The entire machine.
Warranty
Our warranty is the best in The business. With our one-year warranty, we're confident that You'll be happy with Your purchase. Our team is available 24/7 to help you out with any questions or issues that may arise during Your lifetime of use.
Energy Saving Features
This machine has taken special care to include energy-saving features. This model brews a mug of coffee in as little as three minutes, with The ability to save Your favorite drink settings for future use. Plus, it has an automatic shut-off feature so You can rest assured that Your coffee will be ready when You are.
User-Friendly Interface
This has a user-friendly interface that makes it simple to get started. With a few simple steps, You can have fresh, delicious coffee in minutes. Also, The automatic shutoff timer ensures that Your coffee is always freshly made.
FAQs
How to clean The Cuisinart coffee maker?
The Cuisinart coffee maker is easy to clean. All You need is some water And a dishrag. Fill The water reservoir with water, And place The machine on The top rack. Turn it on to The brew mode, And let The machine run for about two minutes. Remove The carafe And fill a dishrag with hot water. Wipe down all of The parts of the machine, including The glass carafe And lid. Finally, rinse off all of The soap residues with cold water.
How to clean Ninja coffee maker?
First, unplug it And wait 10 minutes for The residual heat to dissipate. Wipe down The exterior with a damp cloth. If there is coffee residue on The grinder, use a brush to remove it. Finally, wipe down The interior with a damp cloth.
How to use a Cuisinart coffee maker?
There are a few steps to follow when using a Cuisinart coffee maker.
First, fill The water reservoir to The desired level with fresh cold water.
Second, place a filter into The coffee pot.
Third, place ground coffee into The coffee pot.
Fourth, select The desired brew strength And wait for The machine to heat up.
Fifth, insert a cup or mug under The spout And wait for The coffee to start flowing. Sixth, enjoy Your freshly brewed coffee!
How to use The Keurig coffee maker?
You can use it to make regular coffee, or specialty drinks like lattes And cappuccinos. Just fill The reservoir with water, add Your favorite K-Cup® pod, And push The button to start brewing. The machine will give You a warning when it's time to replace The pod, And when it's done brewing, You can remove The cup And enjoy Your drink.
How to clean a Bunn coffee maker?
Here I will give You The easiest way To clean a Bunn coffee maker, first remove all of The cups and filters. Then, fill The water reservoir with hot water And Vinegar And let it sit for a few minutes. Pour The Vinegar mixture into The machine And use a soft cloth to wipe down all of The surfaces. Finally, rinse it with cold water And dry it off.
Conclusion
What a list of incredible budget-friendly coffee makers we enlisted here! They are easy to program and maintain. Coffee And tea lovers are now gonna be crazy to grab these lovelies at such a cheap rate. So waiting for what! Hurry And grab!! Hope this article will be helpful to You. Share Your Opinions And experiences with us. Enjoy!